Chrome plated ship clocks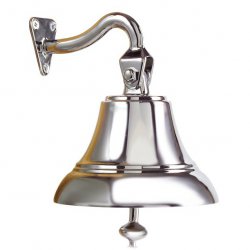 This shop category presents chrome plated ship clocks in seven different sizes. The assortment ranges from the smallest ship bell with a diameter of 5cm to very large ship clocks with up to 30cm in diameter. The chrome plated bells are equally great for usage aboard ships and decoration at home. Firstly, the bells are manufactured from high-quality brass, and secondly, they are chrome plated in a complex process. The timeless design combined with an obvious function makes these ship clocks a useful and decorative accent in your interior.
The bells are delivered with a chrome plated bracket and white lanyard. The chrome plated bells are a perfect present for friends of an elegant maritime interior. Find our whole delivery program here.
---
---