Chrome plated ship bell with bracket and lanyard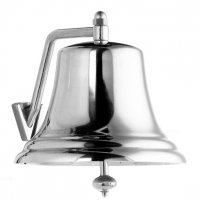 Product description:
Very large chrome plated ship bell with wall bracket. Available in two sizes, 21 or 30 centimetres in diameter. The bell is delivered with a practical v-shaped wall bracket, so that it can easily be taken off the wall or off board at night or during long absence. The chrome plated bell comes in a package with piece of lanyard for chiming the bell's clapper. It impresses with its manufacturing quality and excellent sound. The following two editions are ready for order.
Additional pictures: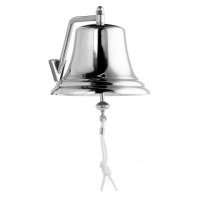 Shipping costs
Denmark (12.00 EUR)
Italy (15.00 EUR)
Luxembourg (12.00 EUR)
Netherlands (12.00 EUR)
Poland (15.00 EUR)
Portugal (15.00 EUR)
Spain (15.00 EUR)
Sweden (15.00 EUR)
Switzerland (29.75 EUR)
---
Methods of payment
Prepayment via bank transfer
Paypal
Credit card
---
Available in different designs

Article number: #
2206CR
Edition with 210 mm diameter (2.6kg)

Ready for dispatch within 24h
(excl. VAT: 192.44 EUR)
Shipping weight: 5.00 Kg
---

Article number: #
2207CR
Edition with 300 mm diameter (8.0kg)

Delivery time of 8 weeks
(excl. VAT: 373.95 EUR)
Shipping weight: 12.00 Kg