Ship bell with bracket and lanyard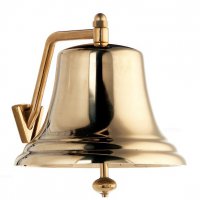 Product description:
Large brass casted ship bell with brass bracket. Available in two different diameters, 21 and 30 centimeters. The special detail: The bell can be taken out of the v-shaped wall bracket with ist handle. Therefore, it is easily protected from damage and theft. The bell's clapper is extended with a white piece of lanyard for chiming, The ship bell is useful aboard and a perfect piece of maritime decoration at home.
Additional pictures: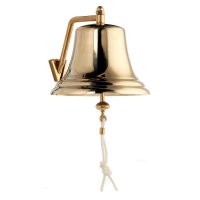 Shipping costs
Denmark (12.00 EUR)
Italy (15.00 EUR)
Luxembourg (12.00 EUR)
Netherlands (12.00 EUR)
Poland (15.00 EUR)
Portugal (15.00 EUR)
Spain (15.00 EUR)
Sweden (15.00 EUR)
Switzerland (29.75 EUR)
---
Methods of payment
Prepayment via bank transfer
Paypal
Credit card
---
Available in different designs

Article number: #
2206
Edition with 210 mm diameter (2.6kg)

Ready for dispatch within 24h
(excl. VAT: 167.23 EUR)
Shipping weight: 5.00 Kg
---

Article number: #
2207
Edition with 300 mm diameter (8.0kg)

Ready for dispatch within 24h
(excl. VAT: 335.29 EUR)
Shipping weight: 12.00 Kg