Ship bell brass, signed 1888 (2.0 kg)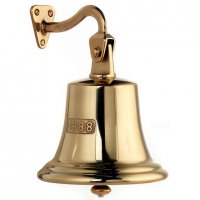 Product description:
Brass bell with 17cm diameter, full delivery with wall bracket and lanyard for chiming. The bell body is engraved with the year date "1888". Presumably, this date leads back to the launching of a ship, but it could just as well be reference to the Convention of Constantinople that proclaimed the freedom of shipping through the Suez Canal in 1888. This bell has a beautifully clear sound and is a perfect present and rooms decoration. It is manufactured from solid brass.
Additional pictures: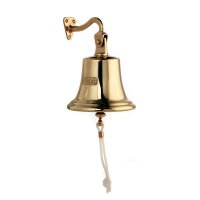 Ready for dispatch within 24h
88.00 EUR
(excl. VAT: 73.95 EUR)
Shipping weight: 3.00 Kg
---
Shipping costs
Denmark (12.00 EUR)
Italy (15.00 EUR)
Luxembourg (12.00 EUR)
Netherlands (12.00 EUR)
Poland (15.00 EUR)
Portugal (15.00 EUR)
Spain (15.00 EUR)
Sweden (15.00 EUR)
Switzerland (29.75 EUR)
---
Methods of payment
Prepayment via bank transfer
Paypal
Credit card
---
Shipsbell-Shop.com Article number: #
2204