Heavy BSH brass ship clock Ø 30cm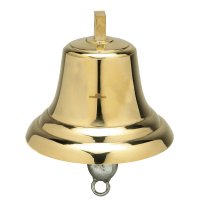 Product description:
Heavy 30cm brass ship bell for usage on ships of more than 20 metres in lengths. The construction type of this bell is approved by the German Federal Institute of Shipping and Hydrography (BSH). Every bell has an individual approval number engraved on its body and is delivered with an according certificate. The bell fulfils all requirements of the Collision Preventing Regulations of 1972 (colreg772) that apply to international shipping. The surface of the bell is not high-gloss polished; you can still see the beautiful traces of processing on the turning lathe. This bell, due to its approval number, is not a great gift, but rather technical equipment for a ship. The delivery content includes a lanyard that is attached to the bell through a shackle. A matching bell bracket is available as an accessory in our online shop.

Ready for dispatch within 24h
449.00 EUR
(excl. VAT: 377.31 EUR)
Shipping weight: 15.00 Kg
---
Shipping costs
Denmark (35.70 EUR)
Italy (38.08 EUR)
Luxembourg (35.70 EUR)
Netherlands (35.70 EUR)
Poland (38.08 EUR)
Portugal (38.08 EUR)
Spain (38.08 EUR)
Sweden (38.08 EUR)
Switzerland (67.97 EUR)
---
Methods of payment
Prepayment via bank transfer
Paypal
Credit card
---
Shipsbell-Shop.com Article number: #
2242