Heavy bell fixated on wooden board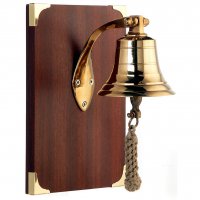 Product description:
Solid ship bell on mahogany-coloured wooden plate with brass edges. The wooden plate is 17 x 24 centimetres in size and already equipped with two hooks on the back, so that it can easily be hung on a wall with nails or screws. The ship bell on wooden plate is available in two sizes: 10cm and 12.5cm in diameter. The bells have remarkable sound and are beautiful maritime accessories. Our shop also provides matching engraving plates for this product.
Shipping costs
Denmark (12.00 EUR)
Italy (15.00 EUR)
Luxembourg (12.00 EUR)
Netherlands (12.00 EUR)
Poland (15.00 EUR)
Portugal (15.00 EUR)
Spain (15.00 EUR)
Sweden (15.00 EUR)
Switzerland (29.75 EUR)
---
Methods of payment
Prepayment via bank transfer
Paypal
Credit card
---
Available in different designs